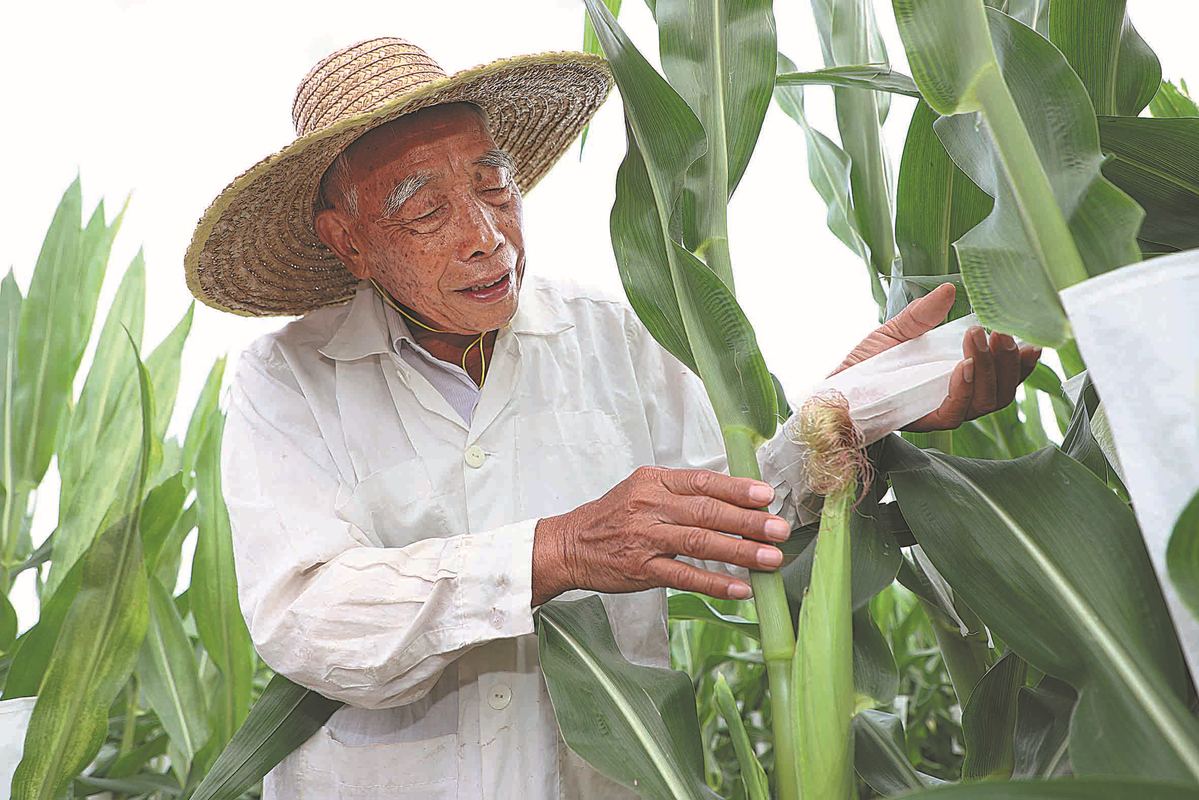 Agricultural scientist Cheng Xiangwen, 86, works in cornfields at a Nanfan base in Sanya, Hainan province. LI XUESHI/MA ZHENGHUI/FOR CHINA DAILY
Number of projects rising rapidly at sci-tech city
A modern complex on a tiny island in Hainan province is due to become part of a crucial platform for international exchanges in seed germplasm resources and also a themed tourist destination.
The complex on Moon Island, a 0.5 square kilometer sliver of land near Sanya Yazhou Science and Technology City, is due to start officially operating later this year.
Germplasm refers to a collection of genetic resources for an organism. For plants, the germplasm may be stored as a seed collection or, for trees, in a nursery.
The complex is the starting point of a global transit base for animal and plant germplasm resources.
This Hainan Free Trade Port benchmark project aims to enrich China's seed resources, improve the nation's seed breeding technological knowhow, and boost cooperation in the global seed industry through exchanges and collaborative research.
Ge Ruiming, deputy director of the Yazhou Bay Science and Technology City Administration, said that in line with the general framework for international rules on intellectual property protection in the seed industry, the base will strive to boost the gathering, identification, evaluation and sharing of high-quality germplasm resources.
The base will also help pioneer work at Hainan Free Trade Port by exploring the conservation of germplasm resources, exchanges, offshore trade, collaborative scientific research and development, Ge said.
In June 2020, a master plan was released for construction of Hainan Free Trade Port, with the aim of making the island province, which occupies an area of 35,400 sq km, a globally influential free trade port with Chinese characteristics, enabling it to lead the way in the nation's reform and opening-up in the new era.
The arrival of the first batch of corn germplasm resources from Brazil marked the tentative introduction of seeds for scientific research at the transit base.
Chen Hao, an official with Yazhou Bay Science and Technology City, said the further introduction of seed resources and genetic material for biological breeding research, including corn, soybeans, fish and shrimp fry, is also being promoted.
The sci-tech city is situated in southwestern Sanya, China's southernmost trading port and an important harbor for the ancient Maritime Silk Road.
Projects launched by the Nanfan Scientific and Research Seed Breeding Base have been increasing rapidly at the sci-tech city, one of 11 key Hainan Free Trade Port industrial parks launched in the past two years.
Occupying more than 69 sq km, the sci-tech city is designed to carry out two strategic national missions-promoting scientific and technological innovation for improved seed varieties, along with independent intellectual property rights to ensure national food security and the development of deep-sea exploration technologies. These missions are based on plans drafted by the central government.