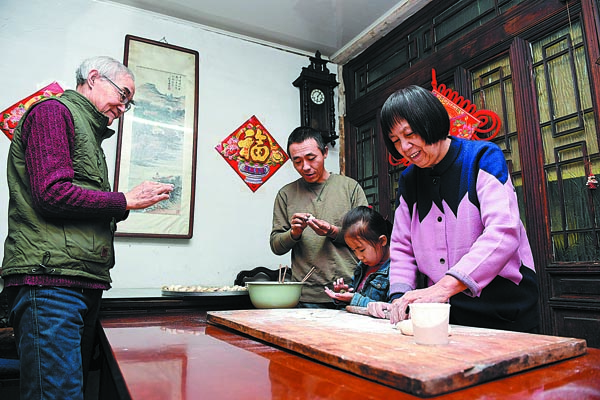 Zhu Maojin, his wife, son and granddaughter make dumplings at their home in Beijing in January 2020. [Photo/Xinhua]
Hutong, the name for the traditional alleyways in Beijing, a modern city with a long history, are once again showing their beauty and charm after years of efforts by the city government to renovate and run them properly.
Zhu Maojin, the 74-year-old resident of a hutong courtyard house in central Beijing's Qianmen neighborhood in Dongcheng district, said his family's happiest memory was of President Xi Jinping's visit on February 2019, a few days before Chinese Lunar New Year.
"The president came to our home and shook hands with all of my family members," he recalled.
"My wife was making dumplings and her hands were covered in flour, but the president said that was all right.
"We asked him to make dumplings with us and he made four, saying that he had not made dumplings for years due to work," Zhu said. "He was humorous and amiable."
The same day, Xi visited primary-level cadres and residents in downtown neighborhoods ahead of the Spring Festival to extend his Lunar New Year greetings.
During his tour of the hutong, Xi ordered efforts to protect the city's heritage sites and conserve traditional culture while renovating them.
He called for improving living conditions and protecting historical and cultural sites so that history and modernity would be able to blend perfectly, and also stressed measures for maintaining the original features of hutong neighborhoods. Zhu said Xi asked him about living conditions and daily expenses.
In 2017, Dongcheng launched a new round of renovations which greatly improved public facilities and the environment in his hutong, Zhu said.
"Green space was increased. Public toilets were upgraded, and we began to use electricity in our kitchens instead of natural gas for safety reasons and to save energy," he said.
By the end of 2019, Beijing had completed the renovation of around 3,000 alleyways, with a focus on cluttered wiring and difficulties with parking and public toilets.
In addition to improving conditions, Beijing has strengthened the protection of historic city areas.
In April 2020, the city government released guidance on housing renovation standards in historical areas in order to raise the bar for renovations and better protect history, and 257 planning teams were sent to learn about the residents' needs and take charge of renovations.
"I was born in this little courtyard and have been living here for more than 70 years," Zhu said. "During his visit, Xi thanked me for keeping it in good condition. I will remain here and protect the city's roots and traditions."